7- point Student Support Programme
In connection with Silver Jubilee celebration, the college proposes to highlight a seven-point student- support programme for the true empowerment of students.
1. Discipline
Discipline is a paramount importance to an educational institution. It sets a testing benchmark for all students and obviously the College is uncompromising with regard to the enforcement of stringent measures laid down for the purpose. The discipline Committee, headed by the Principal, is very alert by keeping tabs on the conduct and character of students such that no untoward incidents crops up under any circumstance. Parents are then and there apprised of serious misbehavior, observed on the part of students, so that the situation is saved from far- reaching down turns. More importantly, students are mentored to create awareness of keeping discipline, a student friendly approach that shows good result. No restrictions are imposed on students from involving in organizational activities but without upsetting the peace and harmony of the campus what so ever. Discipline has ever been the strength and credibility of National College.
2. Merit ὸ National
Merit ὸ National is a platform formed to promote the academic merits of students. Students who come out with outstanding performance are rewarded felicitously. The exercise is greatly motivational in building up their growth and development, the yardsticks of educational empowerment. Merit ὸ National has been instrumental in encouraging students to improve performance, bolster confidence and arouse enthusiasm significantly.
3. Insight ὸ National
Insight ὸ National provides an arena for the students to unearth their hidden potential and make use of their creativities in every respect. The opportunity equips them with sound competitiveness to take up the placement challenges of modern world. The objective is to help students, mobilize their skills, interests and exploiting the immense possibilities remaining dormant in them. Insight ὸ National is a prestigious programme of the college because it exerts enormous influence in students to bring out their efficiency to the fullest possible extent, where by it also contributes a lot in the process of nation building.
4. A Good Placement
A Placement Cell has been constituted to facilitate students to find out suitable jobs. All Departments are very vigilant in bringing to the notice of students, placement opportunities, observed from various quarters. Merit ὸ National and Insight ὸ National play a decisive role in bettering students to get hold of suitable jobs.
5. Learning to have a Good Social and Family Life
A Strong value system is the bed rock of education., imperative for developing good interpersonal relationship. Healthy family/ social life depends on the kind of mutual relationship emerging from the values we up hold. Educational institutions have a great responsibility to tutor right code of conduct, inculcate moral principles, help to develop constructive attitude, ignite inspiring thoughts and implant right beliefs, which would eventually mould the students to lead a good family and social life. In this regard, the student counselling cell has a supporting role, by providing suitable counselling services to students for their psychological well-being.
6. Religious and Ethical Values in Society
The secular fabric of our country allows every citizen to believe and practice one's religious thoughts without breach of another person's beliefs. Spiritual values, irrespective of religions, are sure to strengthen the vision of education and mission of life because vast majority of people are religious minded. Moreover, spiritual thoughts emerge as the driving force that sustains ethical values for ever and ever. The college has taken cognizance of the spiritual rights of students and providing facilities for involving in prayer at specified timeslots.
7. Ultimatum
Ultimatum indicates the attainment of total liberation, indicative of the perfection to be achieved in the fullness of time. How to reach wholeness or realize excellence through righteousness, service and fruitfulness is the most important question to be looked into. The ultimate aim of education in life's journey is to guide mankind from darkness to light, an experience of peace, tranquility and blissful silence.
The programmes and projects framed by the college are essentially in conformity with the objectives of National Educational Policy 2020. Training in life skills management, a prominent area of focus in NEP, is provided for students to whip up their confidence and to enhance their capabilities. Holistic education, another domain of trust, is encouraged by teaching environmental science and interdisciplinary courses at undergraduate level. Orientation programmes for the professional growth of teachers are off and on organized to boost their morale and motivation. The management is very alert to create a vibe on campus which gives rise to positive working environments. Co- curricular activities are planned in such a way that students are able to develop creative thoughts, nature friendly approaches and healthy habits.
An enlightening session with SRI. P. M. ALI-ASGAR PASHA – IAS, as our college presents Insight o' National Interaction Series 03/2023 on 13th June, 2023.
National College students team up with Prince Adithya Varma for an electrifying collaboration at Insight O' National 2023. Check out the extraordinary fusion of talent and innovation!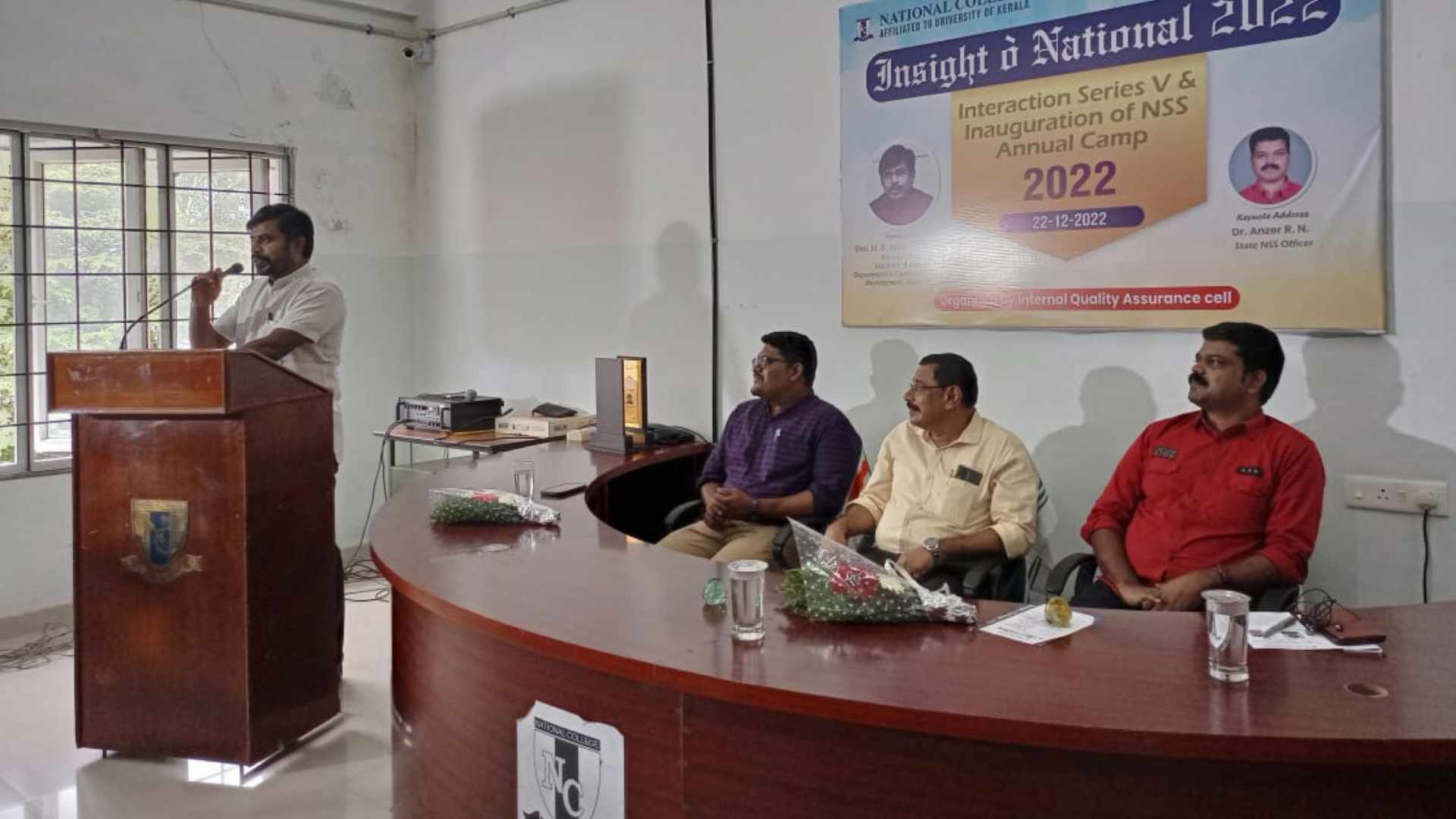 National College launched the new project 'Insight o' National'. It is the second phase of our successful project, Merit o' National. It is meant to encourage our students to explore their talents. Shri. Rajamanikyam IAS, Principal Director, Local Self-Government Department, inaugurated the National College NSS Unit Annual Camp, and it is followed by Insight o' National 2022 interactive series V.
National College, Trivandrum, is conducting 'Merit o' National – 2022′, the merit award distribution. It will be carried out by the Hon'ble Minister for Transport, Adv. Antony Raju on 14 November 2022, Monday at 2.30 pm.
𝗜𝗻𝗱𝘂𝗰𝘁 𝗼' 𝗡𝗮𝘁𝗶𝗼𝗻𝗮𝗹, an Induction Programme for the first year students on 13 October 2022, with the purpose of inculcating the ethos and values of our institution and moulding them into better persons.
𝗜𝗻𝘀𝗶𝗴𝗵𝘁 𝗢` 𝗡𝗮𝘁𝗶𝗼𝗻𝗮𝗹 is a project with a vision of upbringing the students in their respective line of careers. The Centre for Applied Sciences in association with IQAC is organising a session on 26th Aug 2022 for the students under the applied sciences stream. The Vice Chancellor of the University of Kerala, 𝗣𝗿𝗼𝗳. (𝗗𝗿.) 𝗩. 𝗣. 𝗠𝗮𝗵𝗮𝗱𝗲𝘃𝗮𝗻 𝗣𝗶𝗹𝗹𝗮𝗶 will be leading the way on the hot topics `𝗡𝗮𝗻𝗼𝘁𝗲𝗰𝗵𝗻𝗼𝗹𝗼𝗴𝘆, 𝗢𝗽𝘁𝗼𝗲𝗹𝗲𝗰𝘁𝗿𝗼𝗻𝗶𝗰𝘀, 𝗗𝗮𝘁𝗮 𝗦𝗰𝗶𝗲𝗻𝗰𝗲 𝗮𝗻𝗱 𝗔𝗿𝘁𝗶𝗳𝗶𝗰𝗶𝗮𝗹 𝗜𝗻𝘁𝗲𝗹𝗹𝗶𝗴𝗲𝗻𝗰𝗲`.
' Insight o national' ,a project of National College to give all our students an insight to the world of opening on higher studies and on career development is being inaugurated by Honble Minister for food and civil supplies Adv.G.R.Anil.Mohammed Y Safeeulla IAS ,a vibrant officer holding a number of high posts at a time launching the project by giving a motivational speak.
Book A Course, Limited Seats!
In a dynamic, student-centred atmosphere, National College intrepidly pursues greatness by promoting intellect, creativity, and character. Thanks to the workshops, seminars, and interactive sessions with masters in every profession, students frequently have plenty of possibilities to raise their own standards to those of the world.
Admission open
Contact US